Girls Who Choose God
My friend's three year old asked, "Mom– where are the girls?" as she was reading her cartoon scripture book of prophets, warriors and heroes. Tough question. We've all been there… though I arrived to that question sometime later than age three.
My friend got motivated. She looked everywhere and couldn't find a single volume that would do the trick. So we wrote one…. picking the boldest stories we could cull out. We were careful to be true to text but we also intentionally chose those with spunk. Shocker.
If you support the cause of hearing about the women in our scriptures, please buy.

Besides, all author's proceeds from the book go to Interweave – an NGO who trains girls in educational and entrepreneurial skills.
After the success of the Bible book, we went on to do books highlighting women's choices from the Book of Mormon and church history as well. Available at Deseret Books or Amazon.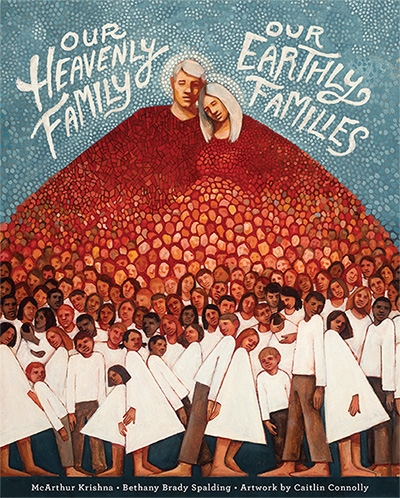 Enjoy!
P.S. We also decided we wanted to do a book on families and the model of our Heavenly Parents— so while it is not part of the Girls Who Choose God series, you might enjoy it as well.
For latest books and updates, please follow us on Instagram mcarthurcreating or the Girls Who Choose God FB page.
ABOUT GIRLS WHO CHOOSE GOD: Stories of Courageous Women From the Bible
From Eve to Esther, from the Samaritan woman at the well to the widow with her two mites, many women in the Bible have made courageous choices. All through the ages, women have chosen to lead, to solve problems, to stand up for others, to strengthen families, and to follow God no matter what.
Girls Who Choose God invites young readers (and those who love them) to make important choices of their own, following the examples of great women in the scriptures. With breathtaking illustrations, beautifully told stories, and insightful discussion questions, this delightful book is perfect for sharing, reading aloud, and drawing children into the scriptures.
In buying this book, you support educational and employment opportunities for LDS young women around the world. All of the authors' proceeds will be donated to Interweave Solutions. For more information about the organization's good work, visit interweavesolutions.org.
TESTIMONIALS
" Through salient examples of Biblical women, the book opens our daughters' eyes to their divine importance and opportunities to make consequential choices. "
" Girls Who Choose God is such a gift. My five year old daughter and I were blessed in our reading and sharing answers to the insightful questions that encourage our growing faith that are included in this book. Women and girls, boys and men, will be inspired and emboldened to live lives in the footsteps of these heroines, who despite great challenges, chose God. I expect to turn to this beautifully illustrated and written book with my family again and again, as I pray to watch my daughter learn to live such a bold and courageous life. I look forward to sharing this book in my ministry as a resource for Biblical education, as a wellspring for empowering women in faith and in leadership, and as a tool for entering into ecumenical respect and dialogue. Thank you for this true gift. "